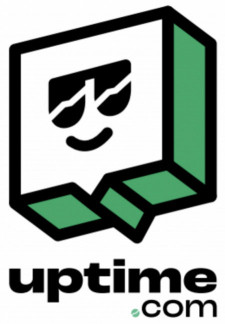 The leading uptime and website monitoring platform says the move to Silicon Valley will bring new opportunities for growth and innovation.
PALO ALTO, Calif., May 2, 2023 (Newswire.com) - Uptime.com, the market leader in uptime and website monitoring, announced the relocation of its research and development office to Palo Alto, California, from Austin, Texas.
Moving its headquarters to Palo Alto strategically positions Uptime.com at the heart of the world-renowned Silicon Valley, unlocking numerous benefits for the company and its stakeholders, while continuing to grow its global remote and hybrid workforce, company officials said.
"Uptime.com's relocation to Palo Alto, the heart of Silicon Valley, signifies our dedication to fostering innovation, driving growth, and nurturing an engaged global workforce," said Jonathan Franconi, Uptime.com CEO and Head of Product. "This strategic move not only positions us to access the brightest minds and advanced technologies but also allows us to maintain our strong worldwide presence through our remote and hybrid teams, empowering us to create a lasting impact on both local and global scales."
The move highlights Uptime.com's focus on innovation, as Silicon Valley is synonymous with technological innovation and it will be able to tap into the region's vibrant ecosystem. The abundance of industry events, conferences, and meetups in Silicon Valley will allow Uptime.com to develop relationships with potential partners, investors, and customers, further expanding its network and reach, Franconi said.
"We are excited about the numerous opportunities that this relocation presents, including the benefits of increased access to a worldwide remote and hybrid workforce. This reflects our commitment to innovation, growth, and community engagement and ensures a bright future for Uptime.com."
The relocation coincides with Uptime.com announcing its new monitoring points in the Asian-Pacific region with monitoring capabilities in:
Taiwan
Thailand
Vietnam
Japan-Osaka
Chile
Philippines
Malaysia
The new monitoring locations will provide more coverage for Uptime.com customers in the APAC region, improving visibility and ensuring websites and services are available for customers worldwide.
For more details on the new technologies and updates to the Uptime.com platform, please visit https://uptime.com.
About Uptime.com
Uptime.com provides peace of mind to thousands of customers like Apple, Microsoft, IBM, Palo Alto Networks, Kraft, and BNP Paribas to monitor the performance, health, and downtime of their websites, applications, and infrastructure. Uptime.com has been recognized as one of the world's best web monitoring solutions by G2 and TechRadar Pro for several consecutive years.
Source: Uptime.com
Share: