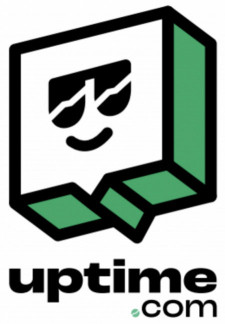 Synthetic Monitoring Is Crucial for Detecting Anomalies and Failures
PALO ALTO, Calif., March 27, 2023 (Newswire.com) - In today's highly competitive landscape, retaining both new and existing customers is a top priority of all businesses. To achieve maximum optimization and prevent customer loss, companies are turning to Synthetic Transaction Monitoring. Uptime.com's cutting-edge solution offers unrivaled insights into website performance, availability and customer satisfaction.
When customers are unable to access a company's e-commerce website to complete purchases, it not only affects sales but also the brand's reputation. Understanding the scope of an outage, such as the number of affected customers and the regions impacted, is essential. "Without synthetic transaction monitoring, answering these questions takes time, leading to revenue loss. Every second matters," said Jonathan Franconi, Uptime.com's Chief Product Officer. He emphasized the importance of a downtime monitoring platform to safeguard brand recognition and minimize revenue losses.
While most companies rely on basic website monitoring to track site uptime, customers worldwide access websites and services through various internet providers, endpoints, networks, and devices. Franconi explained that although up/down checks are crucial for detecting major site outages and ensuring global accessibility, they fail to provide a comprehensive view of service availability. Synthetic transaction monitoring bridges this gap by offering unparalleled visibility.
Uptime.com's solution utilizes repeatable transactions to identify anomalies and failures that could lead to process breakdowns or revenue losses. "Synthetic transaction monitoring is an exceptional tool that leverages repeatable transactions or specific user flows on business-critical areas, such as e-commerce checkout processes or site login functionalities," Franconi said. These transaction checks can be scripted manually or recorded using a built-in browser script recorder.
By running scripts frequently, ideally every five minutes, the system can detect anomalies, failed steps, missing validations or backend responses that may result in process failures like checkout errors. These checks can be executed from multiple points of presence (POPs) or locations worldwide using the same script. Franconi added, "This comprehensive approach offers complete visibility to SREs, operation engineers, and developers, ensuring customers can successfully access your site and execute key business transactions from anywhere in the world."
Proactively addressing issues before they escalate and customers report them is crucial. The operations team can engage with customers via the company's status page and provide outage notifications. Combining synthetic transaction monitoring with basic monitoring offers the best protection. Synthetic transaction checks ensure an entire site is loaded and accessed like a real user would, providing unparalleled visibility into site availability, performance, and accessibility.
Uptime.com invites everyone to experience the power of their solution with a free 14-day trial, allowing users to gain insights into their most critical transactions.
About Uptime.com
Uptime.com provides peace of mind to thousands of customers like Apple, Microsoft, IBM, Palo Alto Networks, Kraft, and BNP Paribas to monitor the performance, health, and downtime of their websites, applications, and infrastructure.
Uptime.com has been recognized as one of the world's best web monitoring solutions by G2 and TechRadar Pro for several consecutive years.
Start monitoring in minutes with our free trial at www.uptime.com
Source: Uptime.com
Share: