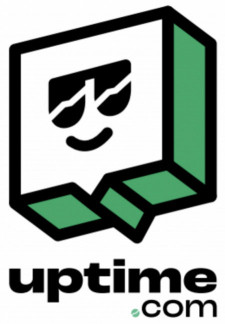 PALO ALTO, Calif., May 23, 2023 (Newswire.com) - Uptime.com, a leading provider of website monitoring and uptime solutions, today announced Uptime Monitoring Services is available on the VMware Marketplace.
VMware Marketplace is a one-stop shop for VMware-validated and -certified ecosystem solutions that enables customers to discover, try, purchase, and deploy directly to VMware environments. Partners can easily publish their solutions for VMware customers across platforms such as VMware Cloud on AWS, VMware Tanzu, and more. Customers are able to access and purchase these third-party partner solutions directly from their cloud environments, while also experiencing the convenience of features such as notifications, reporting, and analytics.
The Uptime.com global observability platform provides in-depth website and service monitoring features to customers in all industries. Uptime.com has points of presence around the world, covering many countries and regions. It offers the benefit of private monitoring locations that is provided as a container. This unique capability ensures effective monitoring regardless of an application's operational environment, be it a public or private cloud. To further extend data integrations, customers can utilize the Tanzu Observability (Wavefront) integration to stream availability and transaction metrics, enabling customers to build dashboards that report SLAs for executive leadership and operations teams.
"We are pleased to see Uptime.com's Uptime Monitoring Services on VMware Marketplace," said Ashok Aletty, VP, Engineering for VMware Marketplace. "By enabling Uptime Monitoring Services to be purchased directly from our Marketplace, Uptime.com helps support our customers to seamlessly build, run, manage and better secure their applications effectively and efficiently using VMware products and our vibrant ecosystem. We're excited to partner with Uptime.com in empowering our customers to enable developer flexibility, maximize their investments and manage their app portfolio effectively."
For more information on Uptime.com's Uptime Monitoring Services, please visit here.
About Uptime.com
Uptime.com, headquartered in Palo Alto, CA, is the world's leading website monitoring service. Since its inception, Uptime.com has been committed to providing businesses with comprehensive monitoring solutions that ensure website reliability and enhance user experience. Trusted by thousands of businesses worldwide, Uptime.com offers innovative tools and features that empower businesses to maximize their website's performance and uptime.
VMware, VMware Marketplace, and Tanzu are registered trademarks or trademarks of VMware, Inc. in the United States and other jurisdictions.
Source: Uptime.com
Share: