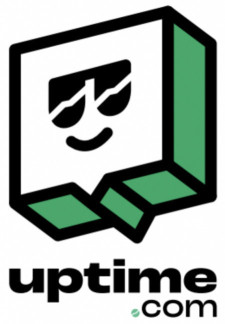 Leaders in website monitoring, full-stack observability and security bring their service offerings together with an industry leading integration.
PALO ALTO, Calif., October 4, 2023 (Newswire.com) - Uptime.com, provider of website monitoring and uptime solutions, and Logz.io Open 360TM platform, makers of an innovative observability and security platform, announce a partnership to bring their industry-leading applications together with an easy to configure one-click integration to provide complete visibility and response. This release has been re-published with updated information.
Uptime.com monitors website performance to provide reliable downtime alerts, industry leading synthetic monitoring, API monitoring, real user monitoring data on page load speed, errors, bounce rates, and satisfaction, allowing clients to optimize front-end user experience. With customizable system monitoring dashboards, connectivity with leading DevOps tools, and 100% human support team, Uptime.com has been recognized by industry experts like G2, Trustpilot & TechRadar as one of the world's best website monitoring solutions, and its thousands of worldwide clients include IBM, Reuters, LendingTree and KraftHeinz.
Logz.io's Open 360 platform provides unified, full-stack observability and security, bringing together log analytics, infrastructure monitoring, distributed tracing and cloud SIEM in a fully managed SaaS solution, powered by open source tools OpenSearch, Prometheus, OpenTelemetry and Jaeger. Its single-pane-of-glass view delivers log, metric, trace, and security event data for insights on system performance, while its AI/ML features improve troubleshooting, reduce response times, and help manage costs. Logz.io offers more than 300 integrations, including AWS, Microsoft Azure, Google Cloud and Kubernetes.
With that shared vision of unifying vital system monitoring services in a single platform, Uptime.com and Logz.io believe their collaboration provides a solution that reduces customers' needs to rely on multiple service providers, and reduces the potential for app sprawl.
"Data portability is an extremely important aspect of our Uptime.com platform and integrations to our partners are a key component to expanding and enabling complete observability," said Jonathan Franconi, CEO of Uptime.com. "Our integration with Logz.io enables key monitoring metrics to be available for alerting, visualizations, and troubleshooting in the Logz.io platform. We are looking forward to continuing to expand our outbound data integrations and to further enhance our integration story."
"Cutting through the massive volumes of available data to resolve emerging issues faster and more efficiently is the number one goal of today's teams as they seek to optimize user experience and reduce MTTR," said Asaf Yigal, Chief Technical Officer and Co-founder of Logz.io. "We're always looking to integrate with leading solutions such as Uptime to ensure that customers can utilize the easiest, most cost-effective means of solving their top observability and monitoring challenges."
Uptime.com and Logz.io anticipate that their strategic partnership will drive comprehensive, cost-effective solutions that transform how businesses conduct website monitoring.
For more information on Uptime.com and its services, please visit Uptime.com.
About Uptime.com
Uptime.com, headquartered in Palo Alto, California, is the world's leading website monitoring service. Since its inception, Uptime.com has been committed to providing businesses with comprehensive monitoring solutions that ensure website reliability and enhance user experience. Trusted by thousands of businesses worldwide, Uptime.com offers innovative tools and features that empower businesses to maximize their website's performance and uptime.
Source: Uptime.com
Share: